Chia seeds are among the most popular superfoods today. They are packed with nutrients and antioxidants that provide benefits for the body and brain. You can find chia in everything, from cereals and granolas to energy drinks and yogurts. They can be incorporated easily into different recipes and are very easy to digest. Read on to learn more about these energy-filled seeds.
Originally grown in Guatemala and Mexico, chia seeds are gathered from Salvia hispanica, a plant in the mint family. They were a staple of Aztec and Mayan diets. They were highly known for their nutritional value and medicinal properties.
Being rich in protein, omega-3 fats, fiber, vitamins, and minerals, these seeds also contain carbohydrates, phosphorus, manganese, copper, potassium, zinc, and calcium. This superfood can enhance your health in many ways. Some of the top benefits they offer to include:
Digestive health
Skin health and combats aging
Helps in treating diabetes
Aids weight loss and muscle building
Fights cervical and breast cancer
Bone and dental health
Boosts energy and metabolism rate
How to Include Chia Seeds in Your Meals
Chia seeds have a slightly nutty flavor, making them a great ingredient to add to various recipes. Although you can consume them as-is, you can also reap their benefits by including them in your daily meals. To prepare chia seeds, you can pre-soak them or grind them up first.
Grinding for Baked Products and Dry Foods
You can include chia seeds in baked goods and dry foods by grinding them. Use a pestle or coffee grinder to make a fine powder.
Pre-soaking for Puddings and Wet Foods
Another way to prepare chia seeds is by soaking them in water. Add ¼ cup of these seeds to 1 cup of water and leave it for 30 minutes or more. This procedure will give it a gelatin-like consistency, making it ideal for puddings and other recipes.
Chia seeds absorb water up to 12 times their volume. This is the reason why chia seeds can aid weight loss as they expand in the stomach. However, eating a spoonful of it followed by a glass of water may cause stomach discomfort. To prevent gastrointestinal pain and bloat, it is best to soak the seeds first.
You can incorporate chia seeds into your breakfast, lunch, dinner, as well as beverages, desserts, and appetizers. Since they are almost tasteless, you can enjoy your favorite meals without changing the flavor while reaping the health benefits of chia seeds.
22 Delicious Recipes to Use Chia Seeds
Here are some of our favorite recipes with chia seeds.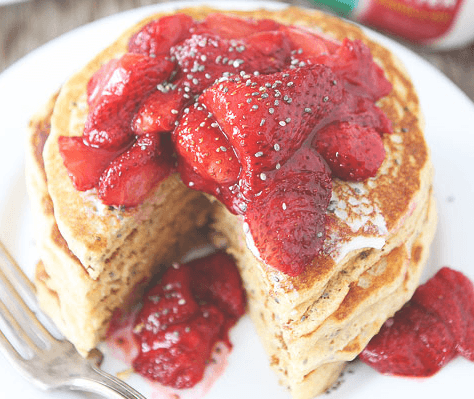 One of the best ways to please your entire family is by having a delicious and healthy breakfast. Instead of whole wheat, you can use sprouted ancient grain flour or oat flour. Consider opting for coconut palm sugar.
You can also take this recipe to the next level by adding strawberries or blueberries on top. This recipe is healthier when combined with chia seeds. All berries are great sources of fiber, antioxidants, and vitamins C and K.
This creamy chocolate shake gets its delicious flavor from blended chia seeds and hazelnuts. If you want to make a smoothie, make sure that you soak the seeds overnight. This will let you blend all ingredients easier. Cocoa powder, another superfood packed with trace minerals, is also used in this tasty recipe.
Consider looking for organic, raw cocoa powder to acquire health benefits when making chocolate smoothies, desserts, shakes, and more.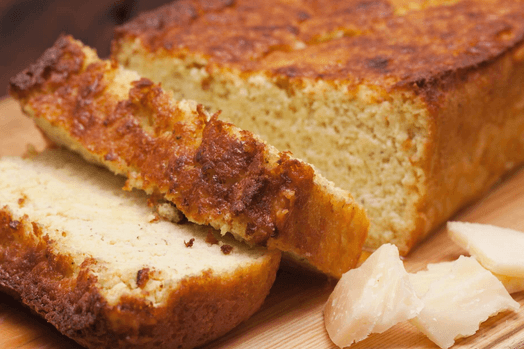 If you are into cheesy bread, then you would love this chia seed recipe. These seeds help in giving a hearty texture to the bread without elevating your sugar levels. It is also important when you are consuming foods rich in carbohydrates.
In this recipe, cage-free eggs, kefir, and good-quality raw cheese were used to give this delicious meal a high amount of protein. This will also make you more satisfied than eating processed pastries. You can also consider using almond flour if you want to avoid gluten.
Here is another delicious treat that allows you to incorporate chia seeds into your diet. This recipe uses flour, making it vegan-friendly and gluten-free! Apples also provide anti-inflammatory properties and fiber. You can also include cinnamon for extra flavor and health benefits.
This recipe is a perfect choice for those looking for a healthier alternative to sugary puddings or processed bread. You can prepare this mouthwatering dessert for your family by allowing some chia seeds to soak to achieve a gel-like consistency.
There is no limit when incorporating chia seeds into your diet. You can even combine it with lime, coconut, or strawberries for additional flavor and health benefits. This recipe is also one of the best comfort foods!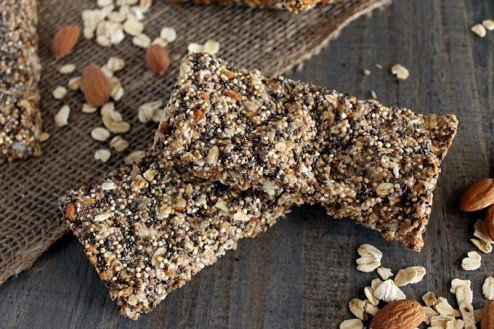 Whether you want to bring some snacks to work or just want to have a healthy on-the-go breakfast, you can always make protein bars mixed with chia seeds. Most packaged protein bars available in the market contain ingredients that may give you stomach problems due to processing. Making your own bars let you choose healthy ingredients carefully.
You can also use local raw honey instead of agave. This will provide you essential vitamins and minerals while reducing inflammation.
Do you love peach cobbler with vanilla ice cream on top? Then this recipe would surely satisfy your cravings, and you can make a healthy version in the comfort of your home! With almond flour, coconut flour, and chia seeds, you get healthy fats without increasing your blood sugar level.
Another delicious recipe that you can try to reap the benefits of chia seeds is Lemon Muffins with Honey Glaze. You can make this recipe even healthier by using coconut palm sugar instead of regular white sugar.
Lemons are packed with health benefits and antioxidants, so do not hesitate to add more fresh lemon zest and juice. Use raw honey for a delicious way to detox. This muffin will boost your immunity, reduce allergies, and combat various diseases.
Unsweetened cocoa is rich in flavanols and anti-oxidants so that you can enjoy your favorite dark chocolate brownies incorporated with chia seeds. Flavanols may also help in improving blood circulation to the heart and brain and may lower blood pressure. It can also increase your focus, attention, and energy levels.
In this recipe, coconut palm sugar is used as a sweetener. Make sure that you choose coconut oil or grass-fed butter instead of your regular butter for additional moisture.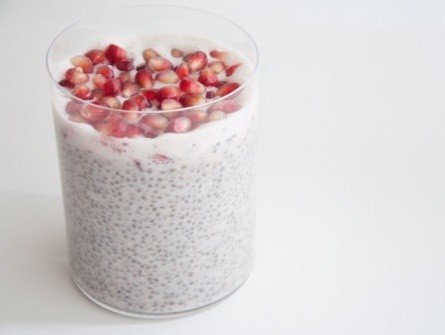 This chia seed pudding is mixed with pomegranate seeds and peppercorns for a spicy and sweet flavor. Pomegranate contains high levels of antioxidants, making it an excellent addition to any of your delicious chia recipes. They promote medicinal properties and can enhance the appearance of the skin by slowing down the signs of aging, such as fine lines and wrinkles.
Pomegranates also help in protecting the skin against the damaging effects of the ultraviolet rays of the sun.
One of the simplest ways to make your breakfast healthier is by adding some chia seeds into your meal. Chia seeds and pumpkin are great sources of fiber. This recipe can help your digestive system function properly. You can also add a pinch of cinnamon on top for added health benefits. This meal will keep your glucose levels stable.
When preparing this dish, make sure that you add more water as chia seeds absorb the liquid, leaving your oats dense.
Here is another delicious and healthy snack that you can make with chia seeds. You can easily incorporate these seeds with your favorite energy ball recipe as it provides a slightly nutty flavor. You may consider adding natural honey, cinnamon, chocolate chips, or raisins for a no-bake oatmeal recipe. These energy bombs are rich in protein, making them an ideal snack after workouts or a long, tiring day.
These delightful grain-free cookies with berries and chia jam on top are rich in different antioxidants. This is a perfect dessert or snack to serve your entire family and friends.
Blueberry is a great option as it contains gallic acid, which strengthens the immune system and has antiviral and antifungal properties. You can try to include other berries in this recipe are blackberries, raspberries, strawberries, and mulberries. Soak some chia seeds beforehand so you can easily mix them with your preferred berry jam.
The combination of chia seeds and quinoa will give a long list of health benefits. Both ingredients are gluten-free, rich in fiber, and offer numerous benefits. Quinoa is one of the few edible plants that have all nine essential amino acids. It is also rich in B-vitamins, calcium, phosphorus, magnesium, and vitamin E.
Like chia seeds, quinoa is also considered one of the superfoods you should incorporate into your daily meals. It is also an ideal replacement for other grains and rice.
If you love meatballs, but you do not want gluten binders or eggs, you would love chia meatballs! Because they absorb moisture from the meat, they help the balls maintain their shape without using eggs and other binders.
Make sure that you do not use super lean meat when making meatballs. A little moisture from healthy fats helps chia in keeping its shape.
If you are looking for a healthy dessert, you would love this chocolate chia mousse. You can prepare it for a mid-afternoon snack or surprise your family and visitors. This delicious recipe can also be eaten for breakfast as it is packed with protein and good fat that can increase your metabolism while keeping your stomach satisfied.
Consider using organic, full-fat canned coconut milk for best results. Finish it with berries and coconut flakes on top.
Citrus fruits like oranges are packed with vitamin C, which is essential for strengthening the body's immune system. These fruits also help boost the production of collagen and slow down the appearance of fine lines and wrinkles.
You can also include vanilla extract or vanilla beans in your chia pudding for additional flavor. They are a great option to bring out the sweetness of chia seeds even without sugar.
One of the delicious ways to incorporate chia seeds into your diet is by using them as a dressing on fruit or vegetable salad. Lime and honey, together with chia seeds, are packed with essential fatty acids and vitamin C that can strengthen your immune system. Adding different types of fruits will also give you enough sources of fiber and antioxidants that are beneficial to your overall health.
If you have not tried avocados in many other ways, you can give this delicious recipe a try. This avocado toast with chia seeds and other toppings is packed with nutrients. You can also include raisins and cashews for additional taste and health benefits.
Whether you want to eat this for breakfast or a snack, you will be able to get healthy fats, fiber, vitamins A and E, iron, copper, potassium, and more!
Combining cauliflower or other cruciferous vegetables with chia seeds is one of the healthiest snacks you can make for your whole family. This simple dish also consists of almonds and eggs, which means that it is also high in protein and other essential minerals. You can also opt for grass-fed Greek yogurt, goat cheese, or mozzarella cheese to make this recipe even healthier!
Raspberry Coconut Chia Pudding Pops is a mixture of coconut milk, shredded coconut, chia seeds, almond milk, and raspberries.
Another totally addicting, totally delicious granola recipe!