Take a look at your underarms. Do you think that they are darker than the underarms of most people that you know? A lot of people with dark underarms do not normally have a disease or serious medical conditions. This article discusses common causes of dark underarms with treatment.
Common causes of dark underarms
The use of shaving creams and hair removal creams
Shaving
Sweating excessively of the underarm area
The underarms may not be getting enough ventilation
Dead skin cells that have accumulated on the underarm area
The use of deodorants that are alcohol-based or may contain other harmful ingredients that are bad for the skin.
Some medical conditions can cause dark underarms.
Here are some possible health conditions that may cause the darkening of the underarm area:
Cancer
Imbalance of hormones
Obesity
Insulin resistance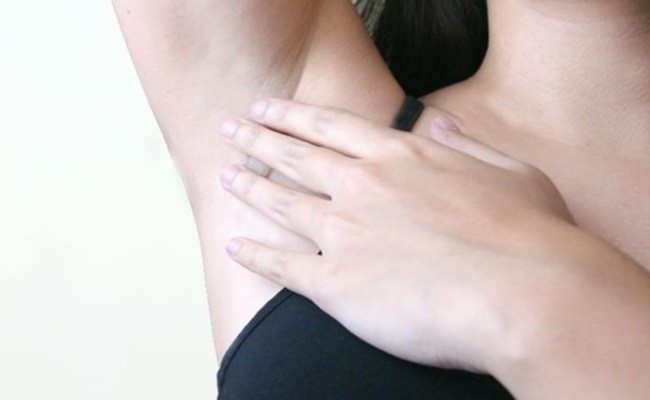 14 Home Remedies to Get Rid of Dark Underarms
If you want to get rid of your dark underarms with natural home remedies, here are some of the items that you should get from your kitchen:
Cucumber
Do you know the reason why people always place chilled cucumbers over their eyes? This is because they would like to get rid of their darkened eye areas. It is not surprising that cucumbers contain some bleaching properties that can be highly effective in lightening the darkened portions of the underarm area.
Chill some thin cucumber slices in the refrigerator or freezer.
Rub the thin cucumber slice on your underarm area for a few minutes.
Remember that you need to do this once or twice every day until you get your desired results.
Another way that you can use cucumber for your underarm is through this procedure:
Grate the cucumber so that you can extract its juices.
Mix the juice with turmeric powder.
Add a bit of lemon juice to the mix.
Apply the paste to the underarm area.
Leave for half an hour.
This should be done once every day to get desired results.
Baking Soda
Can you list down different things that you can do with baking soda? If you are fond of doing different home remedies, baking soda is always one of the items that will come up. Baking soda can be used as an effective exfoliating scrub. This can get rid of dead skin cells, which are commonly one reason people get dark underarms.
Mix your baking soda with water.
Make sure that the paste you create is thick and not runny.
Place the mixture on your underarms.
Leave on the underarm area for a few minutes before rinsing off.
Pat dry.
This should be done about 2 – 3 times a week.
Baking soda is also effective for unclogging pores that are full of sebum.
Coconut Oil
This has always been known to be good for the skin, the hair, and different parts of the body. It is not surprising anymore that this can be good for whitening your underarms too. Coconut oil is rich in Vitamin E, which the body needs to have a lighter tone overall. The great thing about coconut oil is that you can use it as a natural deodorant too.
Massage coconut oil on your underarms.
Leave on the skin for about 10 – 15 minutes.
Wash off with warm water. Do not forget to soap it well.
This can be done about 2 – 3 times every day until you get the results you want.
Potato
Many people are fond of potatoes as food, but what many people do not realize is that they can be good as a home remedy. Potato is a bit acidic, which means that it has some natural bleaching agents that can help whiten some portions of the skin. You do not have to worry about using this on your skin because it is perfectly safe and natural.
Slice potato thinly.
Use a thin slice of potato and rub it on your underarm area.
Wait for the juice of the potato to dry for about 10 minutes before rinsing.
Use lukewarm water in rinsing your underarm.
Do this twice a day to get your desired results faster.
Lemon
Many people are aware of how effective lemon can be in bleaching the skin and even the hair, so it is not surprising that the lemon can bleach dark underarms. Aside from bleaching your dark underarm area, it can also kill the bacteria that may be causing your underarms to be darker.
Rub a lemon wedge on your underarm for about 5 minutes.
Allow the juice to dry for an additional 10 minutes before you rinse off the juice.
Wash the area thoroughly.
Another option that you can do is to create a lemon scrub.
Extract the juice of the lemon.
Add a bit of sugar and turmeric powder.
Mix thoroughly until you form a paste.
Apply on the underarm area and leave for about 15 minutes.
Wash off with water.
After you do this home remedy, do not forget to apply a moisturizer as your underarm area will tend to become too dry afterward.
Orange Peels
Orange peels should not be discarded immediately because it turns out that they can be useful for the different areas of the skin. It is not surprising that the orange peel can effectively lighten the skin, especially your underarm area. Orange peels can also exfoliate the skin to remove dead skin cells that may be causing your underarms to look darker than they actually are.
You need to leave some orange peels under the sunlight for a few days.
Once the orange peels have completely dried out, grind them.
Add orange peels in powder form to milk and water and mix thoroughly.
Use the paste as a scrub on your underarm area.
Leave on the underarms for about 10 – 15 minutes.
Wash the area with cold water.
Do this several times a week.
Saffron
You probably never thought that Saffron is one of the ingredients you will use to whiten your dark underarms, but it can be used because of its properties. This is not only effective in whitening your underarms; it can also get rid of some unpleasant smells that your underarms may emit from time to time.
Add a pinch of saffron to a moisturizer that you can place on your underarms.
Mix it well before rubbing on the underarms.
You do not need to rinse from the skin immediately.
Do this a couple of times a day to get the results that you desire.
White Vinegar
If you want your dark underarms to go away but do not know what to use, you do not have to look any further. You can use white vinegar effectively. This remedy can help lighten the color of your underarms and, at the same time, kill the germs and bacteria that may cause your underarm to smell unpleasant from time to time.
You have to mix the vinegar with rice flour.
Apply the paste on your underarms when you take a shower.
Allow the paste to dry. It may take about 10 – 15 minutes.
Rinse off with warm water.
This has to be done several times a day.
Sandalwood
Sandalwood is best known for its skin-lightening properties, so the fact that this is a part of this list is not surprising at all. This can cool down the underarms and, at the same time, lighten the underarms effectively. Sandalwood can help get rid of body odor too that people may get when they sweat too much.
Add sandalwood powder to rose water. The ratio should be 3:2.
Mix well to create a thick paste.
Apply the paste on your underarms and leave it on the skin until it dries.
Once dry, you can wash with cold water.
Remember to do use this regularly on your skin to lighten your underarm skin color effectively.
Milk
Milk contains some vitamins and fatty acids that can be used to lighten the color of your underarms. They can be effective in making the skin softer, too, which means that your skin will not only look soft, it will also feel soft. In choosing the right milk to use, look for full-fat milk.
Choose full-fat milk and add flour and yogurt. Mix well.
Apply on the underarm area and leave for about 10 – 15 minutes.
Wash off from the skin with cold water once you feel that the skin has fully absorbed it.
Do this remedy every day until you are happy with the results.
This is why milk is always one of the main ingredients in a lot of the skin products that you will find.
Olive Oil
Olive oil is known to be good for the skin. This can be effective in making your skin look beautiful, and at the same time, it has some components that can keep your skin looking young and fresh. Use if your underarms and start to see the difference.
Put a teaspoon of sugar with extra virgin olive oil.
Apply the mixture under your arms.
Leave on your skin for about 5 – 10 minutes.
Do this twice a week.
Yogurt
There are many things that yogurt can do for the body, and when you apply it to your skin, you will reap some benefits. Yogurt has properties that can help eliminate the impurities of the skin that are causing your underarms to be darker than the rest of your body. Add a bit of honey to yogurt, too, so that you can make the mixture even more potent.
Mix yogurt with honey and apply to your armpits.
Rub the mixture on your armpits gently, and make sure that you will get to cover all areas.
Wait for a few minutes for the yogurt and honey to be absorbed by the skin.
Wash with water.
This can be done every day for the best results.
Papaya
If you search for whitening products, a lot of this product contains papaya enzymes that are well known for lightening the skin. What if you could use papaya directly and apply it to your underarms? Will the effect be the same? It may be even more effective if you would follow this procedure:
Get a piece of papaya and mash it.
You can place the mashed papaya on your underarms.
You need to wait for about 15 – 30 minutes before you can remove the mashed papaya.
Rinse your underarms with water thoroughly.
Aloe Vera
There are a lot of things that Aloe Vera is used for. It may be very popular for the hair, but this is known to be effective for the skin. Aloe Vera can help get rid of the redness of your underarms due to using alcohol-based deodorants.
You can extract Aloe Vera gel from the leaf.
Place the gel directly on your underarms.
Leave for about 15 – 20 minutes.
Rinse off with water.
You can do this regularly to lighten your underarms effectively.
What if Home Remedies do not work?
If you have tried all of the home remedies mentioned above but still have dark or uneven colored underarms. You have to know if a medical condition causes the color of your underarms. Some medical conditions cannot be treated by home remedies and should be given attention by your doctor.