Are you having trouble with your oily skin and want to know how to get rid of oily skin quickly? It is sometimes hard to maintain oily skin. More oil will accumulate on your face, which means that you will develop blackheads, whiteheads, pimples, and other skin issues more often compared to people with normal skin.
While it may seem like having oily skin is a curse, there is one clear advantage that will benefit you: you will be less prone to developing wrinkles, fine lines, laugh lines, and all other signs of aging. This is something that you can be happy about. If you have oily skin and are unable to control it, you may have pores that are too large and sebum that is always present in various parts of your face.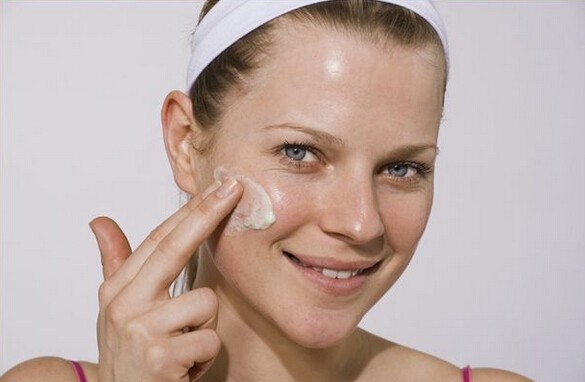 Common Causes for Oily Skin
What causes oily skin? Are you born with it? You could likely have acquired it from another family member. Look at your relatives and your immediate family. Do they have oily skin? If they do, your chances of having oily skin are bigger too.
Puberty – Since adolescence is one period that everyone has to go through, many people have probably experienced oily skin at one point in time. Since people's hormones change during puberty, it is only common for teens to have oilier skin than usual.
Menstrual Period – Like mentioned earlier, a change in the hormones can trigger the skin to become oilier. This is the case with women who have menstruation. Their skin will likely be earlier when they have their period.
Some Medications – Some medicines can cause the skin to become oilier. Proper research is needed for this.
Diet
Stress
Girls may be more prone to hormonal changes because their hormone levels change when they are pregnant when they are about to get their period, and even when they are about to undergo menopause.
Top 10 Natural Home Remedies to Get Rid of Oily Skin Naturally and Permanently
Most people think that having oily skin is difficult because their skin is harder to manage, but with the right products you can find at your very own home, your skin can be amazing.
Lemon Juice
Lemon juice is known to be high in citric acid, which can get rid of the oil and dirt that are left behind on the face even after washing your face. It is also effective against skin discolorations, so if you are having problems beyond your oily skin, this is one of the best remedies to use.
You need to mix fresh lemon juice with distilled water. You need to be particular about the water because hard water contains minerals that may harm the skin of the face.
Apply on the affected area with a cotton ball.
Leave for about 10 minutes.
Rinse off with clean water.
Apply moisturizer on your face if you think that your face is too dry.
If you want to mix lemon juice with other effective ingredients, you can do this procedure instead:
Mix lemon juice with honey and milk.
Apply the paste to your face.
Leave for 15 minutes.
Rinse off thoroughly with cold water.
Honey
There are different home remedies that people can be familiar with, and honey is one of them. Honey has antibacterial and antiseptic properties, which means that it can eliminate bacteria that may cause skin blemishes. Honey can make the skin appear soft and supple without making it oily.
Apply a thin layer of raw honey on the face.
Allow the honey to dry for 10 minutes.
Rinse off with water.
Tomatoes
If you think that your oily skin is getting a bit irritated because of the various things you are doing to it, you can use something natural like tomatoes to soothe it. Tomatoes contain Vitamin C, which means that your skin's dead skin cells will be removed easily to promote new skin to appear.
Just cut a tomato into slices.
Apply the slices of tomato to your face. If you are going to rub, rub gently.
Allow the tomato juice to soak on your skin.
Rinse your skin with cold water.
Apply moisturizer so that your skin will not be too dry.
Yogurt
Yogurt has enough lactic acid that can make it effective in getting rid of the excess oil from your face. This can also exfoliate the skin so that the dead skin cells can be removed. Remember that dead skin cells can clog the pores and can cause blemishes.
Choose plain yogurt as flavored ones will not work that well on your face.
Leave on the face for about 15 minutes.
Rinse the yogurt from your face with cool water.
This is best done once a day to maintain your skin.
Cucumbers
Have you ever wondered why people use cucumbers all the time on their eyes? It is because cucumbers usually have cooler temperatures and can help soothe tired and puffy eyes. It can be effective on your face, too, and can be useful in maintaining your oily skin. Cucumbers contain various vitamins that can also make the skin look more supple and fresher.
You can chop up or grind cucumber with the use of your food processor.
Add lime juice.
Place the mixture on your skin and allow the mixture to dry.
Wash off with warm water.
If you do not have lime juice, do not fret because you can do this remedy instead:
Chop up cucumbers.
Rub the chopped-up cucumbers on the face.
Allow the juice of the cucumber to be absorbed by your skin overnight.
This is ideally done at night.
Apples
They say that eating apples can be good for your health but do you realize that it can be good for your skin? Your oily skin can benefit from the use of apples. Apples can help soothe tired and irritated skin and can also absorb the excess oil from the surface of your skin.
You need to grate the apple and apply the paste to your face.
Leave on your skin for about 15 – 20 minutes.
Wash off with water.
Oatmeal
This may or may not be your favorite breakfast or snack, but oatmeal can do so much more for the skin. Have you ever wondered why there are a lot of skin products that use oatmeal? This is because it is good for the skin. You can combine it with other ingredients to make it more effective.
Place oats in hot water and mix well to form a paste.
Add a tablespoon of organic honey.
Place the mixture on your face.
Massage in circular motions and allow the oatmeal to stay on the face for 10 minutes.
Rinse with warm water.
Egg Whites
This is one of the most popular home remedies that people use whenever they want to get rid of their oily skin. This can be effective in drying out your skin. At the same time, it can help remove the blemishes from your skin.
Whip an egg white.
Apply the whipped egg white on your skin.
Spread on the skin thoroughly.
Please wait for the egg white to dry before rinsing it off.
You can do this twice every week to maintain and manage your oily skin.
If you want to mix egg whites with lemon, this is possible too.
Add whipped egg whites with lemon juice.
Apply the mixture to your face.
Wait for about 15 – 20 minutes.
Rinse off with warm water.
Milk
Getting rid of the excess oil on your face can be done easily with the help of milk. This can make your skin appear soft and supple. There are some components found in milk that can easily get rid of the dead skin cells and regulate the amount of oil found on the surface of your skin.
You need to mix the essential oil of your choice with milk.
Apply the mixture to your face with the use of a cotton ball.
Once you have fully applied to the skin, massage your face with your fingers gently.
Leave the milk on your face overnight.
Rinse off the mixture from your face when you wake up in the morning.
This can be done every day as this is safe for the skin.
Apple Cider Vinegar
You have to admit that almost no list of home remedies is complete without adding ACV into it. Apple Cider Vinegar can be used for a wide variety of things. It is not surprising that this can also be used to help manage your oily skin. This can be effective in toning and moisturizing the skin.
If you want, you can make it your natural toner instead of the toners you can purchase from the store.
You need to place 1 portion of ACV with 3 portions of water and place it in a clean bottle.
Use this toner every night.
You can apply it to your face with the use of a cotton ball.
Leave on your skin for 10 minutes before rinsing.
If in case you want the cleansing to be from within, you can drink ACV instead.
Mix a teaspoon of ACV with a whole glass of water.
Drink before going to bed at night.
This is known to help regulate your body's hormones. If irregular hormones cause your oily skin, then this will be a helpful remedy that you can try.
With all of the remedies you have learned, which one is, you most excited to try? There are also various products you can purchase from stores that contain natural ingredients. Find the right skincare products to use, and it will be easier to manage your oily skin.