Do you have acne-prone skin? If you answer yes, you do not have to search for skin products that may hurt the skin. You can look for home remedies that will improve your skin's condition a lot. Yogurt is a superfood that contains many vitamins and minerals that can be good for the body. It can also effectively get rid of acne because it has bacteria-killing properties that can kill acne effectively.
It is already evident that a yogurt face mask will be effective because of its active ingredients but imagine mixing them up with other organic and natural ingredients. These ingredients will help improve the effect of yogurt on the face.
There are different yogurt face masks available. You need to choose depending on what you think will be most effective for you. If you want to make a yogurt face mask by yourself, you'd better choose the plain version.
What Makes Yogurt Effective?
Yogurt will not be effective in making your skin acne-free without these important nutrients:
Vitamin B12 – This can help the skin become smoother and even. It also can help lighten the skin and acne scars effectively.
Calcium – This can help heal dry skin effectively.
Zinc – This is very effective in getting rid of free radicals. Free radicals are known to cause the skin to age faster. With the eradication of free radicals, your skin will have enough oxygen to retain its youthful glow.
Vitamin B2 – This can help improve the overall regeneration of the skin so that your skin will be hydrated and moisturized properly. Expect that you will effectively lessen the damage caused by exposure to free radicals that can age the skin.
Vitamin B5 – This can improve acne scars so that the skin will look more blemish-free. It can also make acne spots less visible.
Lactic Acid – This is most effective for dry skin as it can provide the skin's needed moisture. It can effectively make the skin softer and smoother.
Best DIY Homemade Yogurt Face Mask Recipes for Skin

Diy Lemon and Yogurt Face Mask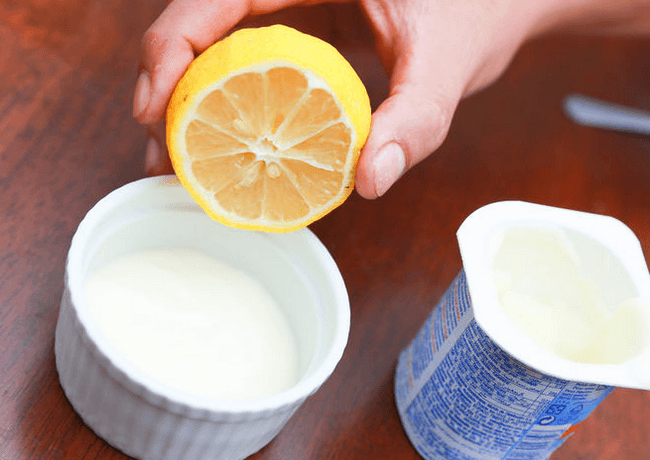 Lemon is very effective for improving the condition of the skin. It can help lighten dark spots and acne scars to reveal smoother-looking skin. On the other hand, Yogurt contains probiotics that can help get rid of the bacteria that may be causing acne on your face. Using this face mask will be effective in fighting acne to reveal smoother skin underneath. The best thing about this facial mask is that it only requires two ingredients: lemon and plain yogurt.
Cleanse your face with a mild cleanser. This will ensure that you have truly removed all traces of dirt and makeup from your face.
Place plain yogurt in a bowl.
Squeeze the lemon juice.
Mix the two ingredients.
Using your fingertips, place the mask on your face.
Make sure that you will rub it in circular motions.
Wait for the mask to dry on your face before rinsing with cold water.
Pat dry your face gently with a clean towel.
You are recommended to put moisturizer on your face after removing the mask if you feel that your skin is a little bit too dry. Any gentle moisturizer will do, but some people like using olive oil as a natural moisturizer because they know it works.
Diy Yogurt, Strawberries, and Honey Face Mask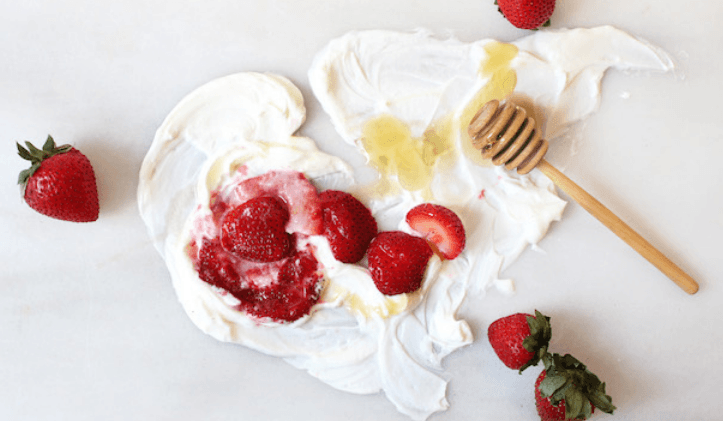 If you have always loved strawberries, you will have no problem having this ingredient at home. Even if you are not too fond of this fruit, you may gain a better appreciation for it once you include it in this DIY face mask.
Strawberries are rich in Vitamin C, which can be effective in rejuvenating your skin. Strawberries can also help improve and regulate oily skin so your skin will appear brighter and more luminous than usual. Honey and yogurt have antibacterial properties, so you can be sure that the bacteria left on your face will be effectively removed.
You need to mash the strawberries first before you mix in the other ingredients.
Add the plain yogurt and the raw honey, and make sure that you mix well.
Apply a thick coat of the mixture all over your face. Make sure that you will apply it in a circular motion so you will be massaging your face simultaneously.
Wait for the mixture to dry on your face.
Scrub off the face mask with warm water. It may take time, so be patient.
You can splash cold water on your face once you are sure that the entire mask has come off. You need to do this to close your pores.
Pat dry with a soft and clean towel.
You can use a natural moisturizer like coconut oil on your face if you feel that your face needs a little bit more moisture than usual.
Homemade Egg White and Yogurt Face Mask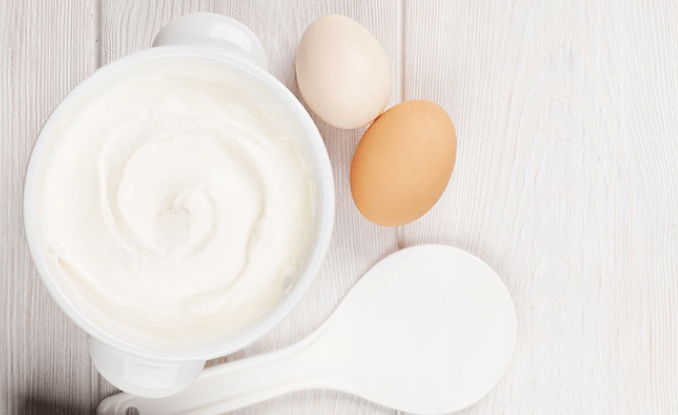 There are a lot of people who are aware of the many benefits of egg whites. Egg whites are most effective for people who have oily skin who would like to regulate their skin's overall oil production. Egg whites can also make the skin's pores smaller so that the skin will look more even-looking. Yogurt can make the skin less inflamed. This makes the mask effective for people who are fighting acne-prone skin.
Take note that you do not need a lot of egg white to make this effective for your skin.
Crack an egg and separate the egg white. You only need a tablespoon of it. You can use the remaining egg white and egg yolk for cooking or other purposes.
Place the yogurt and egg in a bowl and mix. You must have enough for your whole face, so you will not be wasting any amount.
You can use a brush to apply on your face, or you may also use your fingertips depending on what you think will be more effective.
Allow the mask to stay on your face for about 10 minutes or wait for the mask to dry.
Rinse from the face with cold water.
Pat dry.
This can be effective in controlling the amount of oil released by your pores. The more controlled your facial oil is, the better it will be for your skin.
Homemade Avocado, Olive Oil, and Yogurt Face Mask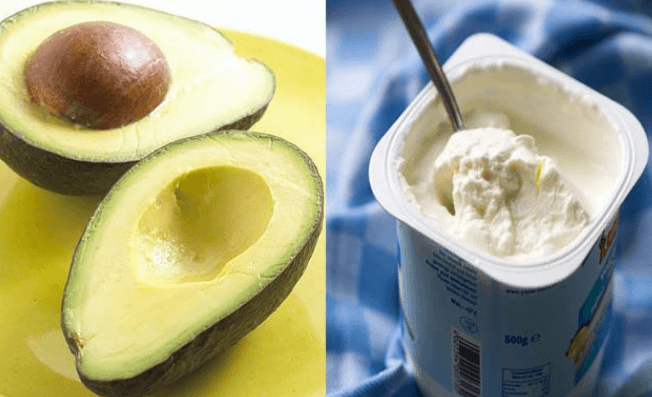 This is a mask that is normally used by people who have dry skin. Avocado and Olive oil are natural moisturizers, so you will surely be putting a lot of moisture on your face when you use this mask.
Avocado is particularly rich in Vitamin E, which effectively hydrates the skin and makes it more moisturized. Olive oil can lubricate your skin, especially if it is dehydrated because of various reasons.
It would be best to use a ripe avocado for this mask, but you do not need to use the whole avocado. You only need enough to cover your face.
Mix in the olive oil and yogurt.
Allow the mixture to settle on your face for about 15 minutes.
Once you are sure that the mask has penetrated your skin, rinse off the mixture from your face.
Use warm water.
Pat dry your skin with a clean towel.
Apply moisturizer on your face if you feel that you need it, but for people who have oily skin, you can just allow your skin's natural moisture to come out.
Diy Oatmeal and Yogurt Face Mask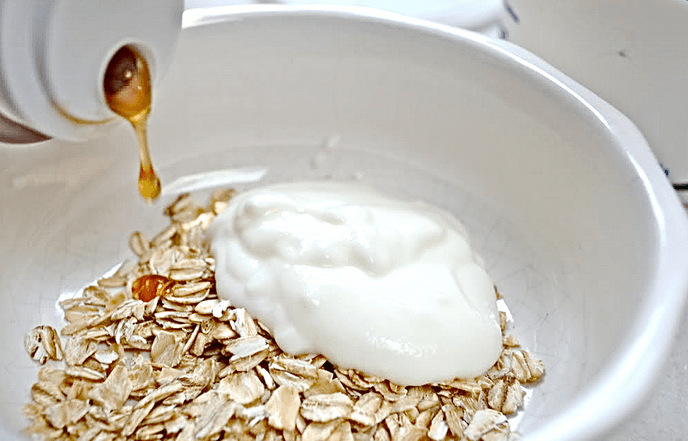 Many people are more familiar with yogurt as one of those ingredients that you normally eat in the morning, especially if you want to feel full immediately. You can actually mix it with yogurt and fruits, and it will taste amazing, but this time, you can use yogurt to improve your skin's overall condition.
Oatmeal is a good exfoliator that can remove dead skin cells from your face to reveal new and soft skin underneath. Yogurt contains lactic acid, which can also remove dead skin cells. These ingredients are powerful in helping your skin peel off old and dead skin cells.
Whip oatmeal and yogurt together.
Apply on your face in circular motions. Make sure that you cover your entire face.
Wait for the whole mask to dry.
Expect that the mask is going to be dry, and it will be hard to tug. Instead of tugging, rinse off the mask with warm water.
Once the mask is completely removed, rinse your face with cold water to close the pores.
Pat dry.
You can do this mask once a week, and it will be effective in exfoliating your skin.
There are so many homemade yogurt masks available. Which of the yogurt masks are you most excited to try? There are still more recipes that you can find online. You need to pick depending on your skin type and what you want to achieve by using a yogurt facial mask.