Tiger Balm is one of the most popular and widely-used remedies for pain relief and other ailments. It is made from a combination of natural herbal ingredients, which have long been used in traditional Chinese medicine.
Tiger Balm is known for its powerful, warming sensation and ability to quickly and effectively relieve pain, soreness, and minor aches and pains. Tiger Balm provides fast and effective relief if you suffer from general aches and pains, muscle stiffness, or a cold. This article will discuss 20 amazing uses, benefits, and side effects of tiger balm.
How does Tiger Balm work

?
Chinese herbalist Aw Chu Kin first created the tiger Balm in Myanmar in the 1870s. Research has found that Tiger Balm has many health benefits and uses, especially for pain relief. This is usually safer than the long-term use of OTC or prescription pain relievers.
The main ingredient of tiger balm ointment is camphor or some menthol. Other ingredients may include cinnamon oil, eucalyptus oil, pepper, etc.
Menthol is a common anesthetic that can help relieve muscle and joint pain. It also helps with colds and congestion. Camphor has a cooling effect and can treat toenail fungus and increase blood circulation. Cinnamon oil has anti-inflammatory effects and can relieve various inflammatory pains.
Note that Tiger Balm cannot be used as oral therapy. Please consult your doctor before use, especially if you already use other pain control medications.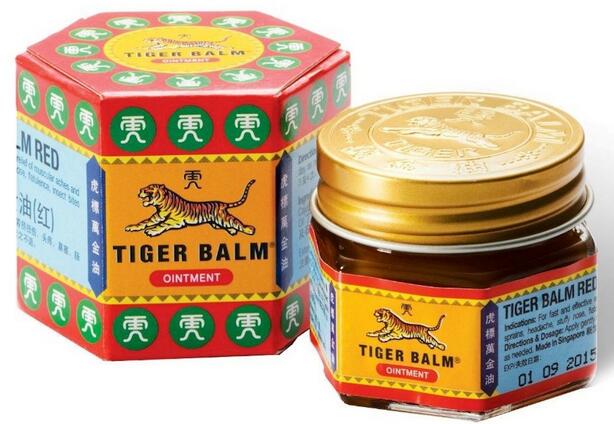 20 Amazing Uses and Benefits of Tiger Balm
Tiger Balm has many uses, especially pain relief. The following are 18 potential uses:
1. Relieve back pain
According to a study, 18 people who experienced non-specific back pain reduced their pain and improved their health after using Tiger Balm. You can apply the ointment to your back and massage it gently. Do it 1-2 times a day to relieve back pain.
2. Relieve Neck and shoulder tension
Another study found that Tiger Balm helps reduce neck and shoulder pain. You can apply it to the painful areas of your neck and shoulders and massage it for a few minutes. This can effectively help reduce neck and shoulder pain.
3. Treat diarrhea
Diarrhea is always very uncomfortable, especially when traveling. Tiger balm can help solve this problem. You can apply a little tiger balm around the belly button.
Then cover the belly button with the palm of your hand for 2 to 3 minutes to allow the heat to escape to your stomach. You can also apply a little balm between the tailbone and the anal area to improve the effect.
4. Toenail fungus
The camphor in Tiger Balm can treat fungal infections. So you can use it to eliminate foot problems caused by fungus. Washing your feet and applying it to your feet every night before bed can help relieve itching and remove fungal infections.
5. Used as an insect repellent
In summer, you may find some small mosquitoes and flies flying around you. These make you sleepless and annoyed. Tiger balsam ointment contains a special smell that can effectively repel these annoying bugs. You need to put it in the corner of the room and open the lid.
6. Eliminate termites
Termites can cause damage to your furniture or house. You can use tiger balm to get rid of them quickly. You only need to put some balsam in the termite holes of the affected furniture. The termites will die soon after eating tiger balsam.
7. Used as an analgesic
You may not know that tiger balm can also be used as an analgesic. Its internal ingredients can help relieve pain, especially for patients suffering from rheumatism. You can apply it directly to the lower back, leg, and muscle soreness. Then gently massage for a few minutes to help relieve the pain.
8. Get rid of sore throat
Many people suffer from sore throats, especially those who speak frequently. Tiger balm can effectively relieve your sore throat. You must apply a tiger balm around your neck before bed. Then gently massage the neck with the palm to help the skin absorb quickly.
9. Treat toothache
Tiger balm has anti-inflammatory properties and can help you eliminate toothaches. You can apply a little tiger balm directly to your mouth. You can also dip some balsam on a clean cloth and wipe around the painful tooth.
10. Relieve mild burns
If you accidentally burn your skin, you can gently apply the balm to the affected area. Tiger balm has anti-inflammatory properties that help relieve pain and prevent blisters. Note that the earlier you use it, the faster the burn will heal.
11. Remove calluses
Tiger balm is an effective way to remove calluses on the feet. You can apply it directly to the corn and calluses on your feet. For better results, you can heat the balsam to increase penetration. Do this one to three times a day until the calluses disappear.
12. Relieve headaches
Tiger balm can effectively help relieve headaches. You need to apply a little tiger balm to your temples and massage gently for a few minutes. Be careful not to use balsam on the eyes, which will cause irritation and pain.
13. Colds and congestion Relief

Some people often experience cold or congestion in the autumn and winter seasons. Tiger Balm contains menthol, which helps relieve colds and sinuses. As another ingredient, camphor can be used as mild nasal congestion, expectorant, and cough suppressant.
Applying tiger balsam under and around the nostrils can effectively improve nose congestion.
14. Get rid of motion sickness
Do you get motion sickness or feel unwell in a car or bus? Applying tiger balm directly on your lips can help you avoid nausea.
15. Warm feet
Tiger balm can be used as a solution for those who suffer from cold feet in winter. Apply the balm to your feet and massage gently for a few minutes. This can effectively help stimulate and improve blood circulation in the feet.
16. Get rid of smelly shoes
To eliminate the unpleasant smell in the shoe cabinet, tiger balm is an effective solution. Open a can of tiger balm and put it in the shoe storage closet. This can quickly remove the odor of sports shoes and leather shoes. Next time you open the cabinet, it will smell good!
17. Remove paint stains
Have you also encountered the trouble that the paint stains on your hands cannot be removed easily? Do not worry! Without chemicals, tiger balsam can help you effectively clean up paint stains.
You need to put it on the cloth and wipe it thoroughly on the skin. You will find that the paint will start to dissolve after a few minutes.
18. Eliminate sweat odor
Did you know that tiger balm can also help eliminate sweat odor? The menthol contained in it has a fresh fragrance and can effectively remove the smell of sweat. You only need to regularly apply the balm to the body parts prone to sweating, and the smell of sweat will disappear.
19. Relieve mosquito bites
Tiger balm has an anti-inflammatory effect and can effectively relieve mosquito bites. You only need to apply it to the bite and massage it gently. You will feel a cool feeling.
20. Get rid of stretch marks
Some people claim that using tiger balm can help eliminate stretch marks. It can help blood flow and bring a cooling effect. But this needs to be further confirmed by research.
Side Effects of Tiger

Balm
If you experience an allergic reaction while using Tiger balm, please stop using it immediately. Allergic responses include skin redness, swelling, hives, difficulty breathing, or facial swelling.
To prevent severe allergic reactions, it is a good idea to do a patch test before use. You can apply the tiger balm to the inside of your elbow and wait for a while to see if there are any adverse reactions. If an allergic reaction occurs, seek medical help immediately.