Split ends are one of the biggest hair concerns among both men and women. They are characterized by a rough, jagged look and a visible break in the hair strand. Split ends are a cosmetic issue only and don't pose any serious health risks, but they can leave your hair looking unruly and messy.
Split ends are usually the result of hair being damaged by excessive heat, sun exposure, or chemical treatments. They are excess strands that break off from your hair and result in a rough, jagged look.
The best way to prevent split ends is by properly taking care of your hair. Use a high-quality shampoo and conditioner that is specifically designed for dry or damaged hair. Stay away from harsh hairstyling products, such as curling irons and straighteners. Limit your time in the sun and avoid extremes in temperature. Talk to your hairstylist about additional tips that can help you get healthy hair. This article provides the top 10 home remedies for split ends.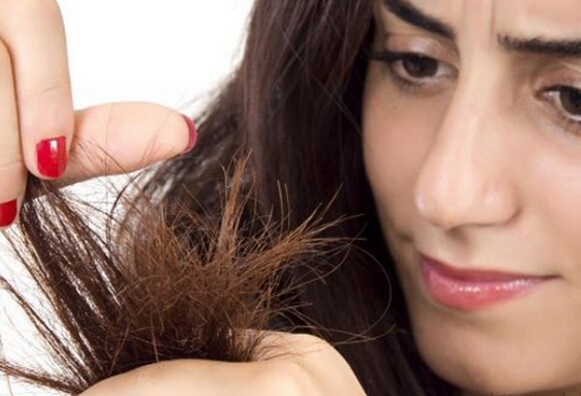 10 Home Remedies to Remove and Prevent Split Ends
1. Olive Oil
Do you know that olive oil can effectively cure damaged hair? Olive oil contains fatty acids and vitamin E, which can help moisturize the hair.
You may need to warm olive oil before applying it to your hair.
Place on your hair, especially the ends, so that your hair will be protected.
Massage olive oil on your head.
Cover your hair with a towel to let the olive oil penetrate your hair further.
Continue with your everyday bathing ritual.
2. Mayonnaise
You may be a bit shocked about this because you never knew that mayonnaise could be used as an effective home remedy, but now that you are aware, remember that this can help protect your hair and make it more nourished than usual.
You would need to wash your hair first and then make sure that you will towel dry it.
Apply the mayonnaise to your hair and leave it on for about half an hour.
Rinse off the mayonnaise by shampooing your hair.
Do this once every week.
3. Bananas
You might think that bananas are very effective for the skin and other health conditions, but bananas can also be great for your hair. Bananas are rich in various nutrients that can give you smoother and softer hair.
Mash one whole banana.
Add a bit of yogurt.
You can also add rose water if you please.
Apply and leave on the hair for about an hour.
Remember to wash off the banana thoroughly and do this once a week.
4. Egg
You already know that eggs contain many nutrients the body may need. Egg yolks can be perfect for your hair with split ends. You can be sure that the regular use of eggs may even cause your hair to become shiny overall.
You would need to whisk one whole egg.
Massage the whisked egg on your head.
You would need to use a shower cap to cover your head.
Leave on for about 20 minutes and then shampoo and condition your hair.
5. Coconut Oil
You may not be surprised to see coconut oil on the list anymore because you know that there are many shampoos placed with coconut oil. This can help the hair become healthier, primarily if you use coconut oil regularly.
Massage coconut oil on your scalp every day.
Leave the coconut oil on your head throughout the night. Protect it with the use of a shower cap.
Rinse off the coconut oil in the morning.
Against split ends, you can also use castor oil and jojoba, which are also very effective. It will always take a few drops, apply once more before shampooing, and leave for about 30 to 50 minutes.
To penetrate more profound the nourishing agents of these oils more, it is recommended to wear a cap (like those to go to the pool) during application. Now that you know the home remedies you can try, you can be sure that you will get rid of the split ends of your hair.
6. Use Beer
It may be surprising that something you like drinking can also be effective in getting rid of split ends. Remember that beer can be effective in controlling split ends, and at the same time, this can help get rid of the damage that has been done to your hair.
Use your regular shampoo and rinse it off.
Once your hair becomes damp, you will need to spray some beer on some parts of your hair.
Make sure that you will leave the beer on the hair.
You would need to do this about once a week.
7. Avocado
Avocados can make locks look more lustrous than usual. This is known to have many nutrients from which the hair can benefit.
You need to mash one avocado and mix essential oils to make it more effective.
You would need to place this on your hair but do not place it on the roots of your hair.
Leave on the hair for about half an hour.
Rinse off the hair, then shampoo as usual.
You can do this every week.
8. Honey
Honey is effective for the skin. It can make the hair more moisturized, so you can be sure that the damage skills may be repaired using this home remedy.
You would need to have a cup of warm water.
Mix honey with a cup of warm water.
Shampoo your hair first and rinse it off with honey with water.
Make sure to let it stay on the hair for about 5 minutes before washing it off.
Do this once every week.
9. Black Tea
While black tea is good for the skin, it can also be used for the hair. If you have dry and damaged hair, you will have no problem using this. This can also be effective in protecting the skin from the damage caused by the sun's rays.
Add a black tea bag to a cup of warm water.
Steep for about 10 minutes.
You may need to place some essential oil to make it more effective.
Remove the tea bag and use the water as your final rinse after shampooing your hair.
You can do this once a week.
10. White Vinegar
Using white vinegar to treat hair may be surprising since vinegar is acidic, but this can be effective in removing the residue left behind on the hair. This can cleanse the hair and make it healthier than usual.
Make sure to mix white vinegar with water. You would need to have more water than vinegar.
Use the vinegar to rinse off the hair.
Leave the final rinse on the hair for about 5 minutes.
Rinse off the hair and towel dry.
You can do this once weekly.
How to Prevent Split Ends Naturally
1. Avoid Too much hair brushing.
This makes the hair fork, as it disrupts the cuticle. Brushing the hair while still wet is one of the leading causes of the problem, as damp hair has only 25% elasticity.
2. Avoid Heated appliances
This can dry the hair and eventually make it a fork. Try to avoid heating devices as much as possible! If you use them anyway, protect your precious locks with protective products. Drying your hair with a towel is not good if you want to avoid prying your tips. Avoid using a dryer as much as possible.
3. Avoid Elastics and all other accessories.
They can damage your hair. Avoid rubber bands that are not covered because they always pull on the hair when you remove them. Other accessories can also damage or weaken your hair.
4. Do not do too many Stains and perms.
This can weaken the hair and make it vulnerable to split ends. This hairstyle requires special care and must be maintained with appropriate products.
5. Keep your health
This influences the condition of your hair. If you have a dry scalp, your hair will prick faster because the hair follicle will not be lubricated. Dull hair caused by a slimming diet is also vulnerable.
6. Shampoo correctly
Do not shampoo your hair more than three times per week, as too much can remove the healthy oils and damage your hair. Furthermore, if you use too much shampoo, chemicals in the shampoo may cause hair breakage. You should choose a gentle shampoo without sulfate or paraben if you have an oily scalp.
When you wash your hair, try to shampoo only your scalp and leave the hair hanging down usually. Let the suds run down the length of your hair to clean the ends. This can help minimize the effects of harsh chemicals and over-washing.